CLEAR Essentials
Our new refreshed CLEAR Essentials is a virtual one-day course that teaches participants how to apply the CLEAR methodology to drive change within their own services.
The methodology is key to all our CLEAR transformation projects. The course will go through four stages: local clinical insight, data analysis, innovation, and recommendations to develop new models of care and workforce.
How the course can build transformation capability
Designed by NHS clinicians, CLEAR Essentials uses a blended learning approach of interactive tutorials, e-lectures and discussion, to build skills needed to analyse complex problems and come up with innovative new ways of working and workforce to improve patient experience and outcomes.
Who is the course for?
Anyone working in health and care with a passion for service redesign and who would like to learn more about to apply the CLEAR methodology to drive change.
What will I get out of the CLEAR Essentials course?
You will receive a CPD accreditation certificate, a mini workbook with actions aligned to your service, understand a robust improvement methodology as well as have the opportunity opportunity to meet and network with fellow healthcare professionals all with a passion for service redesign.
Next courses
The next dates are:
8 November (spaces available)
To sign up, visit our education website. 
The CLEAR Team are also able to run bespoke sessions throughout the year for organisations or systems. If you are interested or would like further information, please contact clear.education@33n.co.uk.
How do I sign up?
CLEAR Essentials is priced at £360 inc VAT per person and takes place on various dates throughout the year.
You can view available dates, sign up and claim the deal through the CLEAR Essentials Thinkific site.
We also have a group booking discount available, please contact us for more details.
If you have any queries please email clear.education@33n.co.uk.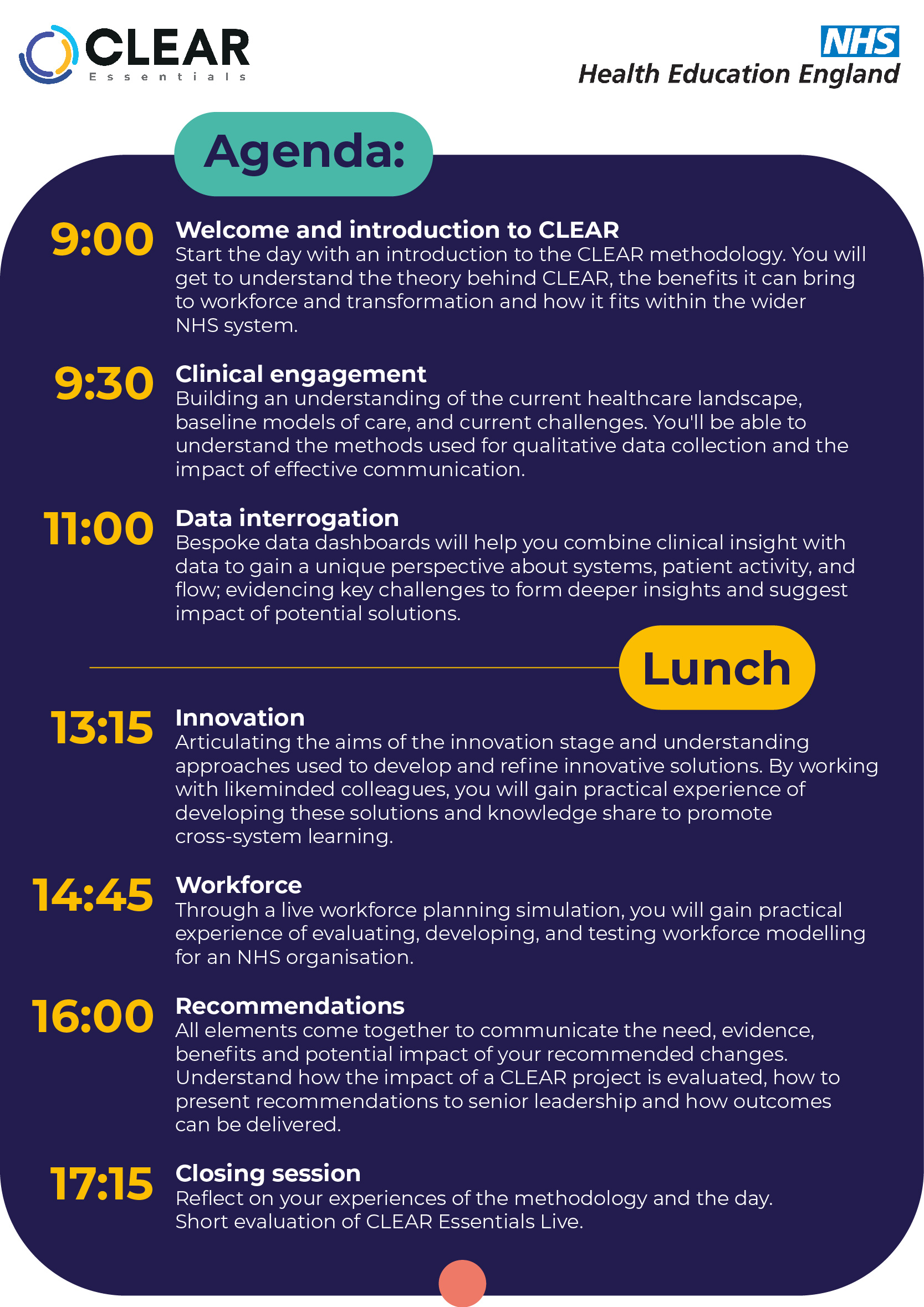 Get in touch with us if you would like to discuss
a potential project and/or opportunities for your
clinical staff.